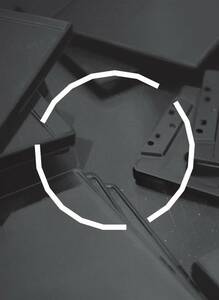 Une revue hors norme autour de l'art contemporain et des musiques expérimentales. Un système graphique présent qui s'adapte à la version numérique, en couleur, et à la version imprimée, en noir et blanc. opticalsound lutte à sa manière contre la standardisation des objets du monde, l'allégeance de l'information et de la critique à l'argent et aux médias. La plupart des grandes institutions, les salles de ventes ou les galeries internationales sont devenues aujourd'hui des trous noirs qui aspirent l'entière surface d'expression et d'exposition. Elles imposent normes, règles et protocoles directement liés au marché. White cube / black cube : caisson sensoriel, espace de neutralisation et d'aveuglement. Flux de communication de plus en plus sophistiqué et impossible à stopper : Annonces, invitations, publireportages, newsletters, dossiers de presse… On expose comme on achalande un concept-store, on édite comme on copie-colle, on informe comme on tweete…
Les alternatives en faible miroir participent à la bonne conscience collective et s'épuisent à maintenir des zones encore possibles mais de moins en moins viables avant l'effacement définitif dans l'ultra-vitesse.
Rien ne se fixe, tout se perd.
Ici nous tentons d'appuyer sur pause. Pas plus, pas moins. Nous concevons cette édition à notre manière, avec nos qualités et nos défauts, nos limites aussi - en toute lucidité et sans compte à rendre. La difficulté n'est plus de penser ou de créer, mais de diffuser et de se financer. L'émiettement et la virtualisation des données participent à la mise à nu du tout et engendrent le rien. L'économie - même de survie - occupe l'espace central de l'art et la périphérie bascule dans la précarité. Le ciel étoilé se fissure, l'étau se resserre. L'art quitte l'art… Un art en dehors du monde l'art…
Ce numéro est en grand écart, entre deux continents sous pression, dont la dérive et l'émancipation réciproques ne seront pas le résultat d'un séisme brutal mais d'un lent et douloureux arrachement. Nous sommes dans cette phase de transition : chaotique, complexe, angoissante, dévastatrice mais nécessaire. IN AND OUT & OUT AND IN. Chacun doit alors interroger et repenser de façon drastique sa position, sa pratique, son écosystème et sa participation au monde de l'art. Chacun sa foulée.
OpticalSound est une surface de fixation, une zone de plaisir, un développé incertain.
Book details
Publisher

Original text

Yes

Language

Original language

Publication date

Theme